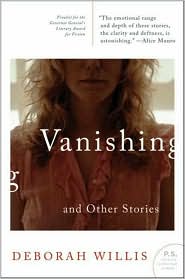 JC: Well, if you've been keeping up to date with your rss feeds and blog reading, you've seen a lot of Deborah Willis on 3G1B in the past week or so. JR reviewed  her fantastic book Vanishing and Other Stories, followed by reviews of several of the individual stories in the collection. Finally, yesterday we published her contribution to the 3G1B series When We Fell In Love.
If your interest has been adequately piqued… and how could it not…then fortune smiles upon you. Harper Perennial has graciously provided ten finished copies for our readers. To have a chance to win, comment below, and, to liven things up, give us the name of a favorite short story that you think deserves more attention. Bonus opportunities to win for links to those stories, and to those who either comment on or "like" this entry on the 3G1B Facebook page.
I'll start with "Haircut" by Ring Lardner. Here it is.